Town of Coventry, NY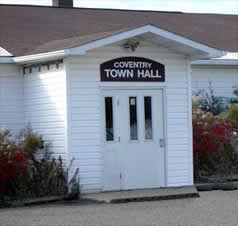 Welcome to the Town of Coventry, established in 1806, consisting of the Hamlets of Coventry and Coventryville.
We have 5 school districts and 5 Town addresses.
We have a wonderful Town grounds consisting of a Pavilion, Tennis Court, ½ Basketball court, Horseshoe Pits, Soccer Field, Volley Ball Court, Walking Track, Ball Field and Playground facilities.

Wylie-Horton Road will be closed from State Highway 235 to Cueball Road for Culvert Replacement. Starting Monday, September 19, 2022 until October 21, 2022.
Town of Coventry Comprehensive Plan Survey results can be downloaded here (zipped file containing Excel spread sheet)