Town of Coventry, NY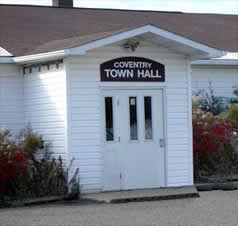 Welcome to the Town of Coventry, established in 1806, consisting of the Hamlets of Coventry and Coventryville.
We have 5 school districts and 5 Town addresses.
We have a wonderful Town grounds consisting of a Pavilion, Tennis Court, ½ Basketball court, Horseshoe Pits, Soccer Field, Volley Ball Court, Walking Track, Ball Field and Playground facilities.

Opt-in or Opt-out for Cannabis dispensaries in the Town of Coventry join in on the discussion at the public hearing on December 8, 2021 at 7pm during the board meeting to give your input!
---
The Town of Coventry is developing a Comprehensive Plan for the present and future. This will be a guide for growth and used to strengthen our local economy all while preserving our natural and cultural heritage. To better understand what the community would like for the Town of Coventry, we are conducting a survey to better understand what the community would like to see over the next 5 to 10 years.If you have access to the internet, please use this link to complete the form online: https://docs.google.com/forms/d/1rO0ITFniACu9zXsCIwKn5qJzK9rdhLA8Eh41HG35C_M/viewform?ts=6143e55d&edit_requested=true.
Coventry Volunteer Fire Company's Annual Ham and Turkey Party Saturday, November 13th, 2021
Click for full details
Contact the Town of Coventry at: Coventrynewyork@gmail.com or call the office at 607-656-8602