Town of Coventry, NY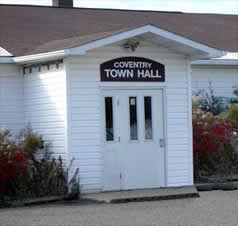 Welcome to the Town of Coventry, established in 1806, consisting of the Hamlets of Coventry and Coventryville.
We have 5 school districts and 5 Town addresses.
We have a wonderful Town grounds consisting of a Pavilion, Tennis Court, ½ Basketball court, Horseshoe Pits, Soccer Field, Volley Ball Court, Walking Track, Ball Field and Playground facilities.

EFFECTIVE IMMEDIATELY!
Due to the Chenango County State of Emergency, the Coventry Town Offices will be closed to the public until further notice. OVER THE COUNTER payments will NOT be accepted during this period.
PAYMENTS MAY BE MADE BY MAIL OR THEY MAY BE PLACED IN THE WHITE DROP BOX BY THE SHERIFF'S OFFICE DOOR
Please submit an accepted form of payment (Personal Check, Money Order, Cashier's or Certified Check)
Make checks payable to: Theresa A. Schultheis, Tax Collector, 1839 State Highway 235, Greene, NY 13778.
NO CASH WILL BE ACCEPTED!
---