Town of Coventry, NY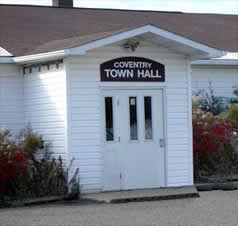 Welcome to the Town of Coventry, established in 1806, consisting of the Hamlets of Coventry and Coventryville.
We have 5 school districts and 5 Town addresses.
We have a wonderful Town grounds consisting of a Pavilion, Tennis Court, ½ Basketball court, Horseshoe Pits, Soccer Field, Volley Ball Court, Walking Track, Ball Field and Playground facilities.

NOTICE OF PUBLIC HEARING
NOTICE IS HEREBY GIVEN that a public hearing will be held by the Town Board of the Town of Coventry at the Town Hall, 1839 State Highway 235, Greene, NY on December 13, 2023 at 7:00 p.m., or as soon thereafter as the matter be heard, regarding a local law entitled "A LOCAL LAW AFFECTING A TEMPORARARY MORATORIUM WITH THE TOWN OF COVENTRY ON THE DEVELOPMENT AND CONSTRUCTION OF SOLAR ENERGY SYSTEMS AND WIND ENERGY CONVERSION SYSTEMS."
TAKE FURTHER NOTICE that the environmental significance, if any, of the proposed local law will be reviewed by said Town Board incident to and as a part of said public hearing.
Interested persons shall be entitled to be heard upon said proposed local law. Persons with disabilities who require assistance in attending said public hearing, or in furnishing comments and suggestions, should contact the undersigned to request such assistance. Communications in writing in relation thereto may be filed with the Town Board Prior to the public hearing.
Dated: November 29, 2023
Theresa Schultheis, Town Clerk
---
---
Notice: Seasonal Roads The Town of Coventry has designated Wylie Horton Rd from Spisak Road west to State Route 235 as a Seasonal Road. From December 1st 2023 thru April 1st 2024, there will be no maintenance.
Legal Notice: No Parking
The Town of Coventry will enforce the NO PARKING Town Law from December 1st 2023 to April 1st 2024. Public is NOT allowed to park in the Town right-of-way which is 24' 6" from the center of the road on ALL Town roads including ALL Dead End roads, as it hinders plowing operations.
Also there is NO PARKING in any and all plow turn around areas. All vehicles will be towed at the owners' expense.
Legal Notice: Mailboxes
Mailboxes within the Town right-of-way are there at the owners' risk. The Town of Coventry will not replace or repair mailboxes damaged due to regular plowing operations. Check to see that your mailbox is at minimum 42 inches from road height to bottom of mailbox and that it is secure enough to withstand the forces of passing snow plows. Mailboxes damage from Town owned equipment will be investigated on individual basis and dealt with appropriately.
Legal Notice: Driveway Clearing
The Town of Coventry would like to remind the Public NOT to push snow from driveways into the travel portion of any Town maintained road. Furrows across the roadway left from pushing snow from driveways can freeze and cause a traffic hazard to the motoring public and may cause damage to town equipment and travelers vehicles. Article 1219 of New York State Vehicle and Traffic Law makes it illegal to plow, shovel or blow snow into a street or highway. This law also covers other items likely to pose a hazard to motorists including wood, glass, nails, wire, cans, etc. This law also stipulates that anyone that places or permits to be placed upon any highway any material which interferes with the safe use of the highway shall immediately remove the same or cause it to be removed. This includes snow. If you are a homeowner and you hire a person to plow your driveway, and you permit him/her to plow the snow into the road, you could be cited under this law.
Thank You for your cooperation.
Town of Coventry Comprehensive Plan Survey results can be downloaded here (zipped file containing Excel spread sheet)